Main content starts here, tab to start navigating
About
Radio Africa Kitchen was created by Eskender Aseged in the early 2000's as an underground event, turning into one of the first Bay Area pop-ups. Eskender arrived in San Francisco in the late 1980's from Ethiopia and quickly adapted to the Bay Area lifestyle. He loves growing his own vegetables, sourcing from Farmer's Markets, and visiting the wine countries often. His first jobs were working in some of the finest San Francisco restaurants such as Square One, Boulevard, and Campton Place with chefs Joyce Goldstein, Nancy Oakes, and Daniel Humm. During this time, he was inspired to experiment with his own style of cooking. He integrated his techniques of African cuisine to California's local ingredients. While traveling in countries like Morocco, Egypt, Turkey, Israel, and France, he saw how interconnected the food and culture was to his home of East Africa.
After many fun years of Radio Africa Kitchen pop-ups, Eskender got the opportunity to open his first brick and mortar restaurant in the Bayview Neighborhood of San Francisco. This came at the right time and the right place for his vision of serving a community he wanted to be part of. In March 2012, Radio Africa Kitchen opened its doors as a restaurant with hopes to create nutritious, thoughtful African cuisine.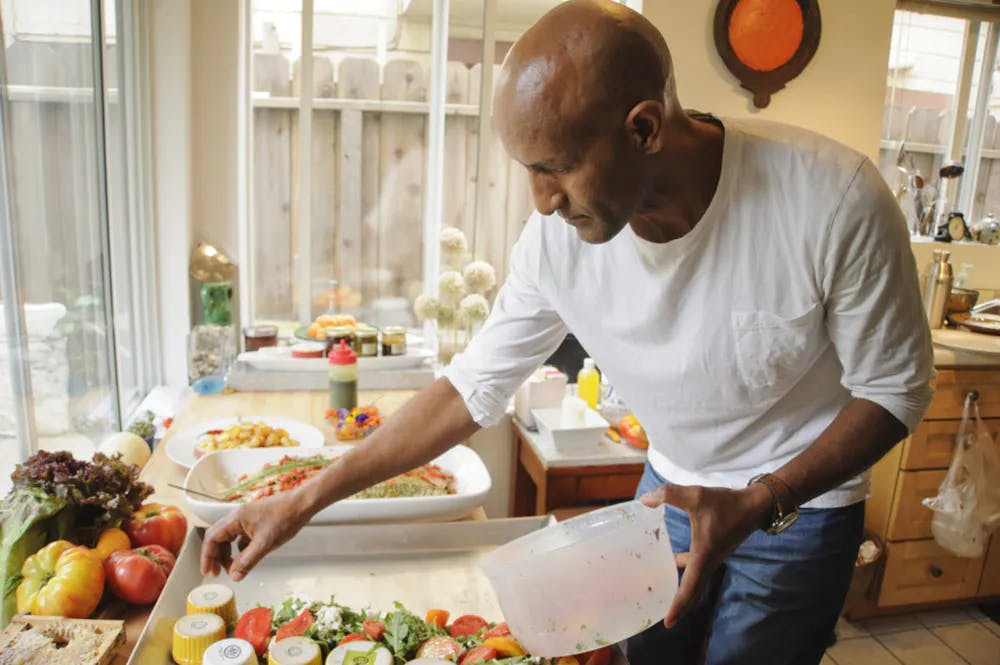 Why "Radio Africa"?
The name comes from Eskender's experience growing up in Gonder, Ethiopia with very few outlets for listening to media. Only one household per neighborhood might have a radio and as a kid, he would gather to listen to soccer matches and music, sharing laughter, conversation, and snacks.
When you dine with us, you will enjoy a seasonal, nutritionally well-balanced meal that always includes organic vegetables, greens, grains, nuts, wild fish, shellfish, and fruit, accompanied by herbs and spices.
We look forward to serving you in our home.